Sometimes mSupply is prevented from running on Windows computers due to the restrictions imposed by the operating system. One possible resolution is to turn of "Data Execution Prevention" (DEP).
If DEP is turned on and the mSupply server is started, it may quit immediately without an error messages.
To turn off DEP:
Open Windows explorer.
Right click on"My Computer" and choose "properties"
Click the "Advanced" tab
*Under the "Performance" section, click on the "Settings" button.
Click Data Execution Prevention
Make sure that Turn on

DEP

for essential Windows programs and services only is ticked as shown in the image below.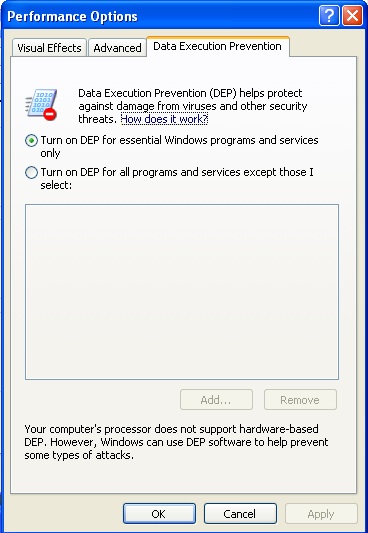 A quick way of doing the above for advanced users :
Click Start from the operating system menu, click Run, type sysdm.cpl,
Then click OK.
Repeat from number 3 onward from above instructions.
Comments