New Features
OpenLMIS Integration

mSupply now integrates with OpenLMIS, giving countries using OpenLMIS a seamless migration path to transition to mSupply
DHIS2 Integration

mSupply is now able to send selected data to

DHIS

on a user-defined schedule
Contact Sustainable Solutions for information on setting up DHIS2 integration
Online Dashboard with Grafana

The mSupply Dashboard has been replaced from the ground up using two open-source tools

PostgreSQL for data warehousing and aggregation
Grafana for rendering and powerful configuration of dashboards completely online through a modern interface allowing custom postgreSQL queries by power users
Reports

New 'Save Template' function added for a number of report types

Report types include: Current stock, Stock on date, Item usage, Item slow movers, Expiring items, Expiring items vs cover, Transactions
Users can then quickly view the report using these saved filters & settings via the menu bar Report > Run report templates option
Further options available via the menu bar Report > Manage report templates
There is the ability to sync these report templates to remote sites, allowing standardised reporting across the organisation

Improvements made to the Consumption Per Facility report
Programs (Vertical Program Functionality)

New and existing Item Master Lists can be set to act as Programs
Program visibility managed by existing store tag system
Define order types on a Program

Requisitions to the program must use an available order type
Order types can be limited to a period schedule, with a set amount of orders per period and max number of lines

Regimen data collection can be configured for entry on both mobile and desktop sites doing requisitions to a Program
Stores using Programs can make stock takes for a particular Program
Program based reports added and can be customised
The above are also all supported on mSupply Mobile v2.3.0 and above
Stocktake reasons

Stocktake lines can now use centrally defined reasons to explain discrepancies
Reporting based on stocktake line reasons added
Supported by stocktakes in both mSupply Desktop and mSupply Mobile
Requisitions

Requisitions now show lead time
Requisition extra info section now displays customised

AMC

formulae
Requisition Reasons

Requisition lines can now use centrally defined reasons to explain deviations from suggested (

AMC

based) quantities
Reporting based on requisition line reasons added
Supported by requisitions in both mSupply Desktop and mSupply Mobile
Prescription Payment Handling and Patient Credit

When configured, mSupply stores in dispensing mode can now do payment handling
Patients can add credit to their account to be used for paying prescriptions
Prescriptions have basic integration for receipt printers (80mm width)
Insurance

Administrators can now add insurance providers in mSupply
Users can add insurance schemes to patients, setting the discount on prescriptions (0-100%)
Other

Patient type can now be selected for payments
Allow Responsible officer to be set per user basis and as well as for user groups
Drug registration items now able to be filtered by

VEN

categories in the Drug Registration module
Localisation added to patient editing window tabs
Master list importing function now includes prices
Ordering logic for calculating suggested orders/tenders now able to take expiring stock on hand into account
Stock transfers/customer invoices: warning added about needing to finalise
Supplier Invoices > summary by item – new columns added for claimed and requested quantities
_______________________________________________
Bug Fixes
Purchase Orders

Outstanding Purchase order lines Price ext is partially shown in landscape A4 #2395
Purchase order line may be hidden after you confirm a PO #2165
Purchase Order to another store was generating a requisition with wrong request amount #2201
Purchase orders: deleted purchase order numbers needed to be re-used #2223
Reports

Pick list report didn't show customer name and records display in multiple pages #2784
Report > Item and stock > Current Stock… > Each Batch with Prices [option] – Report failed to show #2304
In Ordered Item Report "Price ext (local)" column showed an error #2234
Sorting problem with location report resolved #2268
Supplier invoice > Summary_landscape_no_logo report didn't display properly over multiple pages #2385
Summary landscape consolidated items report printing resolved #2450
Some template report pop-up windows could go to the back when opened from template manager #3124
Running a cross tab report for a quarter period error resolved #2160
Supervisor Mode – Reports > Purchase Orders > expanded store list fixed #2217
Ability to print when report definition contained "&" character resolved #2232
Requisitions

Requisition: text didn't show how many records were filtered out #2375
Requisition/Internal order input window – filtering and deleting corrected #2426
Internal order detail view: it was possible to make requisitions to own store #2801
Customer current stock on hand column shows unverified values in the Requisition #2383
Could edit store code text on internal order #2398
Viewing details on a requisition could leave you unable to close the window #2323
Master Lists

Form did not update when master list descriptions were edited #2816
Couldn't add a non-visible item #3217
Item could become visible even if it did not belong to a master list, where item visibility was controlled by master list for that store #2164
Stocktakes

Were potentially able to enter negative values into a stock take line #2507
Forms

Could not print Multiple forms even if the forms were set as "Multiple" #2901
Invoices

Customer invoice and prescriptions number reused were controlled by the wrong preference #2869
Customer Show invoices > Find dialog > Complex find button : search did not respect Store Joins #2680
Items added to customer invoices through the 'Add from

BOM

' button could have the wrong quantities assigned #2278
Customer invoice > Print it with waybill form – export to Excel fixed #2273
Supplier Invoice – Print barcode labels were chopped off #2384
Supplier Invoice – Print barcode labels should only be visible when "We use barcode scanners" preference on #2384
Supplier invoice copy to clipboard had a non-intuitive icon #2205
Supplier invoice print out wasn't displaying logo #2331
Other

Aggregator was not running on server #3048
Improved upgrade code v3.85 to v4.02 #2295
Improved upgrade from v4.00 to v4.01 #2256
Fixed possible error during start-up of v4.02 single user/server it the application was unregistered #2345
The mSupply registration could be deleted accidentally by clients #2406
MySQL Plugin references were not correctly disabled #2224
User input OK button was not saving some details correctly #2334
Goods received lines could be saved without location #2420
French translation for creating a new user/new user group corrected #3013
Customer stock history screen updated #2188
Goods received note fixed for Consignment Received report #2310
Goods received line remaining quantity wasn't taking account of other GRs #2416
Stock window hide print barcode button fixed #2454
Store list updating corrected when adding new stores #2194
Store selection was resetting when changing synchronisation tab sync type #2206
Plus minor bug fixes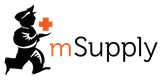 Read more »
---
New Features
DHIS2 Integration

District Health Information System (v2) is the world standard for collating health data. mSupply is now able to send selected data to

DHIS

on a user-defined schedule.
Contact Sustainable Solutions for information on setting up DHIS2 integration.

Barcoding!
Bug Fixes
Report type requisition values weren't able to be saved when sorting the a list column [2290, 2288]
Supplier invoice printing issues: logos were not printed on Summary Portrait & Summary Landscape forms, and the report printed over multiple lines [2331]
Editing Users: In certain situations the OK button was not saving certain details [2334,2336]
V400 server: The Rest

API

was failing to respond after a server re-start [2337]
Upgrade from v400 to v401: The User permission "Login…… as Desktop user" wasn't enabled as an option [2259]
Requisition forms: failed to copy requisition custom data for stores whose store mode is of type "report" [2239, 2238]
Error in Report > Purchase Order > Ordered Item – 'Price ext (local)' column [2234]
Our automated build system wasn't able to build v4.01 clients [2235]
Fixed an error while trying to make all names visible to a store through the store input > visibility tab [2174, 2175]
The store selection was lost when changing synchronisation tab sync types [2206]
Store list updated incorrectly after adding new store [2194]
Multi-store-Purchasing: Adding Purchase Order Lines threw an error [2157]
Purchase order lines (with location) disappeared after the PO was confirmed [2165]
`Expected delivery date` was disabled after a `Shelf location` field was assigned in the Purchase order lines window even when `Expected delivery date must be chosen` preference was turned on [2166]
Cross tab transactional quarterly reports produced an error [2161, 2160]
Preferences > Custom fields > setting "list" options for store wasn't working [2146, 9169]
Label printing to

USB

only worked if printer name was called "ZDesignerEPL" [2143, 2144]
Newly added printer didn't show up in printer list [2141,2142]
Placeholder lines could have sell price & price extension values greater than zero, which also generated incorrect transactional totals/subtotals [2352]
Supervisor Mode – Reports > Purchase Orders > expanded store list > clicking on a single store made all the stores disappear [2217]
Could save GR lines without location despite pref "Locations must be entered on goods receipt" [2420]
Remove Remote plugin

SRP

ro Convert [2410, 2413]
mSupply registration could be wiped by client (should only be handled on server startup) [2406]
Kits: Bulk item rows were being merged – only need to merge Kit Ingredient rows [2289, 2277]
Custom quarterly report – fixed issues managing batches [2173, 2178]
Custom form – issue experienced when printing Supplier Invoice (SI) using unpacking SI form [2177, 2176]
Requisiton Report wasn't showing region or township [2328]
Plus minor bug fixes
Read more »
---
New Features
Version 4.01 is our biggest release in several years.
There are several significant features:

Change to 64 bit architecture. This is the biggest internal change to mSupply in a decade. It means:

Much faster operations – some reports are 10 times as fast
Ability to use

RAM

> 2 Gb for caching, which facilitates the increase in speed
Better support for modern operating systems
Version 4 (and following)

WILL

NOT

RUN

on 32 bit systems – please check here before upgrading

Much improved internal orders from one store to another:

There is a new "internal order" form and logic for placing orders from one store to another. This improves workflows, allows better capture of unmet demand, and is much faster [8791]. View the user guide here
If you still use Purchase Orders for internal ordering, that's still possible, but in the supplying store a requisition is now made, allowing you to easily supply the order over multiple customer invoices. When the stock is received in the requesting store, a goods receipt is still made, but pricing information now flows through correctly. View the user guide here

Days out of stock, Stock on hand and Average monthly consumption (

AMC

) are now pre-calculated using a DHIS2 style aggregation table. Many reports now run much faster.
We have two new web applications

The Stock web app allows you to quickly view stock in a warehouse from a phone, tablet or laptop. View the user guide here
The Authorisation web app means that if managers or heads of department need to approve receipts, supplies or orders, they can do so from their phone or computer. [8919]. View the user guide here

Translation into Khmer language.
Full support for Unicode input into fields.
Email notifications: if you want to run a report on a schedule and email it to a user or group of users, mSupply can now do this. If there are multiple reports for the same user, they'll be put into a single Excel spreadsheet as different workbooks. [8794]. View the user guide here


There's some minor features too:

User permission report – Spin the store names to 90 degrees [8444]
Cambodia: Response requisition have the requested quantity filled out automatically [8889]
Item name: increased to 255 characters [9060]
Stock take: Creating inventory adjustment when not enough stock: We re-enabled our previous easy options [8811]
Kits importing PO – Management of interactive importing spreadsheet process [8713]


Bug Fixes
Purchase order > Internal requisition: The supplier invoice in the receiving store misses out on the price info [8913]
Running a transactional cross tab report generated an error [9143]
Reports > Item List: Item Location column displayed blank for items which had location set [9166]
Stock take > Input form: Stock take number replaced with spare label [9120]
Good Receipt: Add Item table did not show auto calculated total quantity [9048]
With some rare situations, it was possible for an invoice line to be linked to the one item when the batch itself is linked to the different item [8429]
Item > input form: Adding/Updating Bulk shelf location did not save in the database [9167]
Editing quick reports from the report management list on 64 bit threw an error [9099]
Solomon islands custom PO report failed for item with "&" in the name [9130]
Authorisation: Inventory adjustments required authorisation [9034]
On sync: Creating a Repack transaction failed to send the associated lines to the desired store on Cloud [9095]
User tags: the type-ahead list of tags was only generated when loading the user list- instead of the user "input" form method [9050]
Remove [users]"input" > permissions(3) tab > can view the dashboard pref (and assoc code) [8494]
Requisition

MOS

fields [9067]
Customisation code for Cambodia wasn't added to customization_check code [9052]
alert_display new line/line feed "\n" didn't work in v16 [8942]
V4.00 Dashboard looks to be down. We can't even login either locally or on to a live server [8995]
Stock on Date report in Supervisor Mode produced erroneous results [8835]
Internal orders: when editing the number of months, only the calculated quantity changed – not the requested quantity [8941]
File > Import > Locations… Failed to import location with parent.id attached [8688]
Some 4D quick reports were not updated to our latest structure [8986]
Stock take sheet: Items were printing over multiple pages instead of fitting to a single page [8992]
Report > Item & Stock > Days out of stock: Items printed over multiple pages and wasn't excel friendly [8994]
Supplier invoice printout: Transaction lines printed over multiple pages [9001]
Goods Receiving module broken: Stores without Goods Receiving Auth Not handled effectively [9016]
Goods Received line: Batch and expiry failed to update [9028]
Myanmar Chai: Had error regarding lack of of

SRP

report [9041]
mSupply has gone "spare" [8907]
Custom fields: When adding custom_data fields in Preferences these shouldn't show on [Store]input Custom fields [8880]
Merging the name via the method "name_merge_process" did not create a sync record [9088]
Dashboard double click to edit a report was not working [9053]
Dashboard was not showing on interface: missing from structure [9051]
Receiving item: Adding new donor, the added donor did not show in the list [9059]
Finalising an internal order: had an unnecessary prompt to delete lines with zero quantity [8906]
Goods received: wasn't able to finalise [9061]
For internal requisitions, the generated GR was incorrectly retaining the location from the CI [8954]
Dashboard of Solomon Islands had problems with report "Sync sites last connection date" [8729]
Strange trigger code occurred on pref_blob [8946]
Stores in dispensary mode: attempted to print dispensary labels for normal CI invoice to facilities [8830]
Customer invoice authorisation store pref also applies to dispensary prescription but the form was missing the required checkbox [7689]
Internal Orders: Newly created internal orders didn't show confirm button [8893]
Remote authorisation: Finalise behaviour for CIs didn't match SI behaviour [8963]
The stock transfer CI invoice was unable to be duplicated [8887]
Importing Item and Stock – Stock line was not being assigned with a Supplier "Inventory". [8989]
Running a suggested order quantities report > Order ID was showing the

UUID

instead of an Order number [8984]
Myanmar

MAM

> Monthly

MAM

report – Report data wasn't synchronised – the values were good but not showing in the right place [9012]

SRP

> Printing a Good received > Failed to show all lines (showed the last line only) [9033]
Goods received: not able to be finalised [9015]
Transaction report Window > Date Chooser

DDL

> Failed when selecting "this half year/ Previous Half year" [8776]
v4.10 Remote Authorisation: 'Entered by' field in Customer Invoice window changed when on Authorisation tab [8860]
Running a under permission report > Generated an error [8846]
Internal order: at the sub store: The finalise button gave an alert about deleting non entered lines [8890]
CI transaction input window > Username field: was changed when clicked on Authorisation tab [8876]
Upgrading a pre v385 data file to v4 called obsolete

GMA

plugin and generated startup error [8903]
Authorisation web app to be validated on different browsers [8917]
Tender: [tender]input form, on some of the pages the listbox needed to have horizontal scroll bars turned on [8563]
Goods Received Note List Form had a "Spare" Header [8881]
Good received > Finalize: Even when there was no item to receive it could still be finalised [6873]
Runtime error was adding patient from Choose Patient.. Window [8800]
Sync / scheduler was stalling [8905]
Print a customer invoice form was failing to option a print window dialogue [8895]

PDF

s failed to generate on windows installed mSupply server [8864]
Finalise on customer invoices w/ authorisation was not working [8863]
Allowing a custom field to get shown on SI > Double clicking the SI > generated error [8838]
Customer invoice: Finalising a ci on hold does not finalise the invoice but it does not warn the user [5527]
On a stock adjustment the alert saying that you cannot confirm an un-authorized invoice should have come before the confirm message [7652]
Setting item visibility to match master lists hid 'Pack to One' button on [store]input form [8744]
Tenders: needed logging for tender status changes [8711]
From printing option window:

PDF

file on disk failed [8831]
Switching from PagePro to Super Report….. [8792]

PNG

Cloud data: error occurred when viewing the Badilli collector store [8725]
Registering from mSupply client

MAC

application failed [8386]
Default query: did not have the requisition table as a query option [8465]
No icon for installed mSupply client [8472]
Duplicates_find was no longer fixing ID's [7412]
Item input: When dragged – form did not format properly [8454]
Read more »
---
Where is mSupply?
mSupply is primarily used by developing nations around the world. You can find us in more than 20 countries.