Warning : If you have a flexible USB communication device (Usually a device that allow internet connection) installed on your computer or Laptop, it may be advisable to remove the device and then to follow the steps mentioned below.

Start mSupply and login

From the mSupply menu, Choose "File" which is located at the top left hand of the screen. A menu list will pop out as shown below.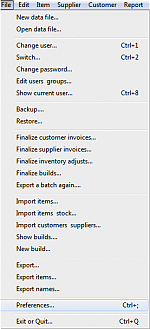 Choose "Preferences..." which is closer to the bottom of the menu, and a window will be displayed.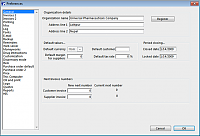 The organization name should be entered if it's blank. Click the "register" button. Another window is then displayed.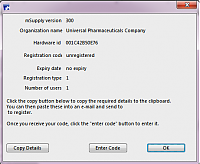 Click "copy details" button, this saves your mSupply details on the clipbord (on computer's memory) . If you have access to e-mail then paste the contents on to the message window and e-mail it to us. To paste the information, you need to hold down "Control" (or CTRL) and press the letter "V" on the keyboard. If you do not have access to your e-mail on the computer, simply paste the information on a Word, Notepad or Wordpad document and send it to us as an attachment.
Once we receive your e-mail we will respond appropriately.

Registration code entry instructions:
Review the mSupply registration details provided by Sustainable Solutions.

Choose File > Preferences from the mSupply menu as shown above.
Check organisation name matches registration details supplied (change the name to match if necessary or obtain new registration code for correct name)
Click the "register" button and a familiar window will be displayed. (check hardware id matches. If it doesn't, click "copy details" & paste into an email to us, follow the instructions from the beginning )
Click "enter code"and you will now get the opportunity to enter in the registration details provided by Sustainable Solutions.

The "Expiry date" field is normally left blank. Make sure that the registration code, registration type and number of users is entered as specified by Sustainable Solutions.

Click "OK" when complete. If successful you will be prompted with a "Thanks You" message.
Note: for client/server version of mSupply, Sustainable Solutions will enter the code for you using remote access
Comments