Zebra printers have a sensor that detects when the end of a label is reached. When you first install them, and then occasionally after that you might need to perform the following steps. This is know as calibrating the printer.
If the printer is on, turn it off (switch at the back, right hand side when viewing printer from the front)
Make sure the printer has the labels in it that you want to use
Hold down the button on the top of the printer while turning on the printer switch at the back (hint: it's easier to do this using two hands ;-) )
The printer will slowly advance and then print out some text, then stop.
Press the button on top
The printer will print some more text, ending with "out of dump"
Further pressing of the button on top should now advance exactly one label
If the above fails to improve performance then try re-setting the printer.
View Special > Printer preferences… from the mSupply menu.
Double click on the print settings that is causing problems.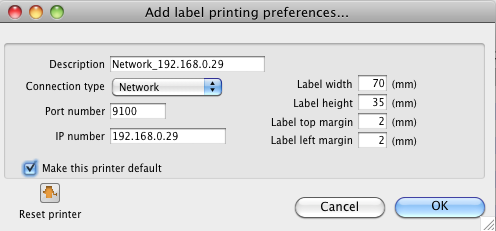 Click on the "Reset printer" icon once or twice.
Then physically carry out the calibration steps mentioned above.
If the printer still mis-behaves then you may need to follow the maintenance procedure mentioned inside the manufacturer's guide. There as also a possibility that the firmware of the printer needed to be upgraded or re-installed.
We have Zebra printers in use around the world, having printed more than a million labels. We have yet to see a broken printer. The worst that has happened is that the printer firmware has had to be uploaded. The most common problem is that they occasionally need re-calibrating using the steps above.
Comments